Home
Spyro 1


Artisans


Peace Keepers


Magic Crafters


Beast Makers


Dream Weavers


Flight Levels


Gnasty's World


Secrets

Spyro 2
Spyro 3
Shop


nce upon a time -- oh, it must have been November 1998 or so -- I bought my very first Playstation game. The game was a good one, fun, challenging, and -- this is hard to overstate -- genuinely charming. Its name, of course, was "Spyro the Dragon."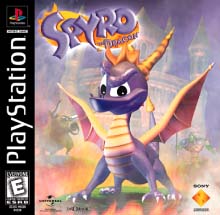 That didn't mean there weren't points that I and my girlfriend (now my wife, the queen of the flight levels) didn't get stuck. So, to her surprise (we weren't even done with the game!), I decided to make this Web site, so that we, and Spyro fans from around the world, could share our questions and, ultimately, our answers.
The site grew, and grew, and when the sequel arrived, I added on room for the new addition to the Spyro family. And then, with "Spyro: Year of the Dragon" on the way, I gave this site a new name, a redesign and a URL of its own.
Sure, Spyro's come a long way since then, but his first game is still one of the best Playstation games around, and one of the best platform games of all time. "Spyro the Dragon" is truly fun for the whole family: Not so hard as to frustrate younger members, but challenging and funny enough to keep the older kids (and parents) playing through to the end.
Some direct links to commonly looked-for information:
Attention: The answers for Cliff Town, Haunted Towers and Tree Tops work exactly as written. Really. We promise. No foolin'.