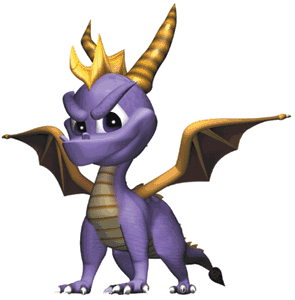 elcome to SpyroHints.com!
SpyroHints.com is the Web's #1 hint site for the Spyro the Dragon Playstation 1 videogame series! The questions and answers were originally all fan-submitted and later revised and expanded by the SpyroHints.com staff. Whatever problem has you stumped in the Dragon Worlds, never fear: Someone else has run into the same thing before and this site has the answer!
Some sad news: After many long great years as part of the Spyro fan community (which we're proud to say that we helped to create), this site is going to be more or less retired. While we will keep the Spyro 1-3 guides up indefinitely (along with the shop that helps pay for the bandwidth all our visitors use), we will not be providing any further walkthroughs for the Spyro series, due to increased demands on our time. We wish Spyro and all his fans the best, and we know that there are other sites out there who will take over where we left off.
Big thanks to Insomniac for the countless hours of fun and wonder, and we know that the best is yet to come from you guys, and we look forward to seeing a long and glorious career from you all.